Binsar Oak Paradise, a destination nestled in the lap of the great Himalayan range far away from the hassles and stress of daily life in the heavenly state, Uttarakhand. It is located in the beautiful valley of Binsar (dhoulchhina), surrounded by lush green Oak, Pine, Deodar and Rhododendron forest, at an altitude of 7000 feet.
If you have been dreaming of a peacefully relaxing and utterly charming holiday, Binsar Oak Paradise, set amidst green Oak trees, is the perfect place for you. The resort, gazing the mighty Himalayas peaks, offers the best rooms and delicious food with breath-taking vistas of sunrise and sunset. This resort is located at a distance of 32 Km from Almora market and at a walking distance from Dhoulchhina. Nearby railway station is Kathgodam at a distance of 113 Km and nearby airport is Pantnagar(140 Km distance).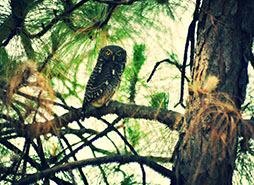 IF YOU ARE A KEEN BIRD WATCHER, THEN YOU CAN CATCH A GLIMPSE OF A WIDE VARIETY OF BIRD'S RIGHT FROM THE WOOD PECKER TO THE VERY MAJESTIC HIMALAYAN MAGPIE. ALL YOU NEED IS A KEEN EYE, AND NOT TO MENTION, A CAMERA TO CLICK AT THE RIGHT MOMENT.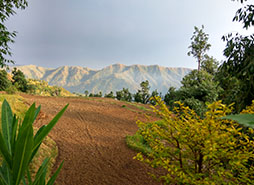 SHORT TREK NEARBY VILLAGE:
FOR THOSE WHO LOVE TO EXPLORE, A SHORT TREK TO A NEARBY VILLAGE, IS A GREAT IDEA. YOU CAN SIP HOT TEA PREPARED BY THE VILLAGERS AND TALK TO THEM TO KNOW MORE ABOUT THEIR CULTURE AND WAY OF LIFE.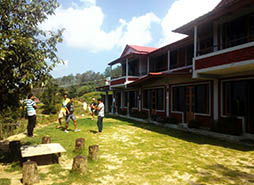 A PARADISE SOMETIMES IS MADE TO BE LOST. RIGHT NOW, BINSAR OAK PARADISE (IN THE LAP OF NATURE) IS TREADED UPON BY FEW. WATCH THE SPLENDID VIEW OF THE SUNRISE AND THE SUNSET, OR SIMPLY RELAX IN THE PEACEFUL SERENE ATMOSPHERE.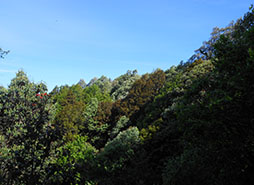 RHODODENDRONS, PINE , OAK AND CEDAR, YOU WOULD SEE THEM ALL IF YOU CHOOSE TO GO FOR A JUNGLE WALK.
Temp: The average temperature in Binsar (Dhaulchhina) is 14.5 °C. The rainfall here averages 1603 mm. With an average of 20.0 °C, June is the warmest month. January has the lowest average temperature of the year. Mostly snowfall In the month of Dec- Jan.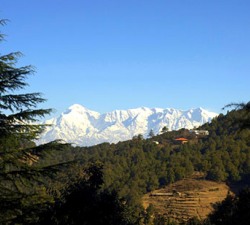 *Binsar wild life Sanctuary… Containing three species of Himalayan oaks, Chir pine and Deodar and more than 200 species of birds and wild animals. At a distance of 7 KM (trek route) from Resort.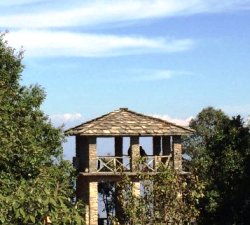 **Binsar Zero Point… Binsar Zero Point is the highest vantage point of the Binsar wildlife, from where one can savour a 360 degree view of the Himalayan beauties namely Kedarnath, Shivling, Trishul and the group of Nanda Devi peaks.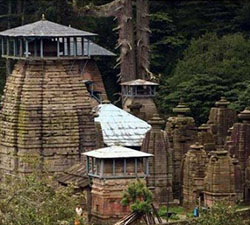 *Jageshwar… Counted among 12 Jyotirilinga in the country, Jageshwar Temple lies in a beautiful narrow valley hedged by monarch-sized, ancient deodars trees, a perfect getaway for pilgrim, a distance of 28 Km from the Resort.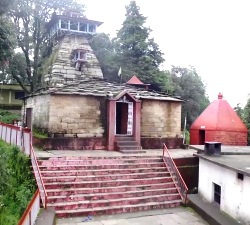 **Bridh Jageswar… Bridh jageswar is at the hill top where a single temple of Lord Shiva is situated. Anyone can enjoy the 10km trek route for Jageshwar via Bridh Jageshwar from the Resort.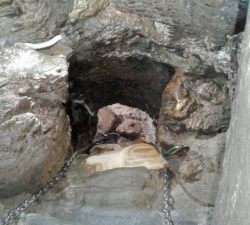 *Patal bhuwneswer… Patal Bhuvaneshwar is famous for the 160m long limestone cave that is mainly dedicated to Lord Shiva. It is believed that the cave is the abode of 33 crore deities of Hinduism.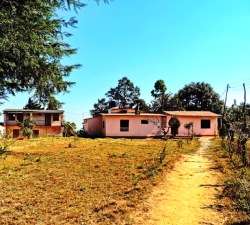 *Maa Anandmayi Ashram… This picturesque Ashram is situated on the Nilgiri peak of the Himalayas. In 1957 an Ashram was built here, Ashram is situated in 1.5km of distance from Binsar Oak Paradise Resort.